Tags: vancouver, triathlon, vancouver triathlon
This was mostly a quiet weekend for me. Until Monday that is, when the darling spouse and I rolled out of bed at some forsaken the-birds-aren't-even-up-yet hour, threw on our bright orange volunteer t-shirts, and headed off to the 4th annual Vancouver Triathlon in Stanley
Park.
The athletes were competing in one of 2 categories: Olympic (1500m, Bike 37.6km, Run 10km) or Sprint (Swim 750m, Bike 18.8km, Run 5km), which is quite a few steps ahead of the Harrison
My First Tri
, which is where I'd like to start.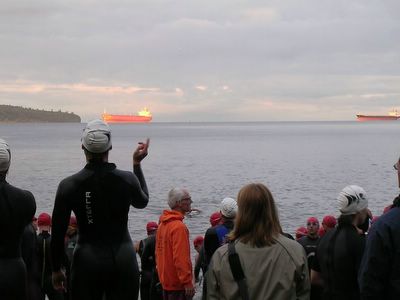 Just after daybreak, the first wave of swimmers wait at the start line for the beginning of the 2005 Vancouver Triathlon. I'm glad I'm only volunteering, cause that water is COLD!
Another wave of swimmers preparing to test themselves...



Checking out the lay of the land..



And off the beach they go...



First transition (swim to cycle)



Athlete running his bike to the start of the cycle lap



The one that earned my deepest respect was this gentleman, Mr David Barr.



He competed, and COMPLETED in the 70+ Olympic category.

The final results for the tri are available at the Multisport Canada website. Who knows - maybe our names will be on there one day. But for now I'm happy just to have volunteered and had a chance to watch and cheer the athletes on.